Advanced Juniors Youth Volleyball
Join the fastest-growing youth volleyball league
in Advanced Juniors!
Girls & Boys 8-week Volleyball League
Where:

click the blue button for Advanced Juniors Spring 2017
Price:

Early Registration: $450 due by 7/1/2017
Regular Registration: $495 until 8/1/2017
Late Registration: $525 until 9/1/2017
Ages 11-16 (Divisions: 14 & under, 16 & under)
(Age divisions are determined by child's age on November 1st of participating year)
Questions? Call 1 888 988 7985 or contact us for more information.
(No registrations will be accepted after the Late Registration deadline unless space permits.)
Multiple Child Discount: 2nd child or more, deduct $10 for 2nd, 3rd, etc. Price includes uniform jersey.
Want to play?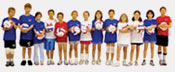 You're not alone! Over 155,000
kids have learned to play
volleyball with us!
The USYVL has youth leagues
all over the country.
Find a league nearby.

Enter your zip code to find
a league nearby!
Start a new league!

We can help you start a
volleyball league in your area!
» Start a League